The Best Properties for Rent in Florence
We have painstakingly searched Florence for properties that meet the demanding requirements of our luxury clients. The properties listed below are the result of over 10 years of research. We have tried to include properties at a variety of price points, but be assured that they are all the best available in their category. We inspect these properties on a regular basis, and  are ultimatly responsible that they maintain their standards. You are not dealing with an anonomous owner on a Airbnb type site, you are dealing with a company which is part of the Virtuoso travel network, the most respected pruveyor of luxury travel in North America, as well as an A+ rated meber of the Better Business Bureau.  Because we are a full service travel agency affiliated with Virtuoso, we have a reputation to maintain, and can also provide all the additional services to make your stay special, such as personalized tours, transfers, epcial events, etc.
Enjoy browsing our properties and don't hesitate to call us with any questions or comments.
Villa 4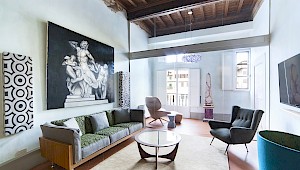 Florence Apartments
Beautifully renovated 2 bedroom apartment in an ancient palazzo, right on Piazza Santa Croce. From $2,923 per week
Apartment 11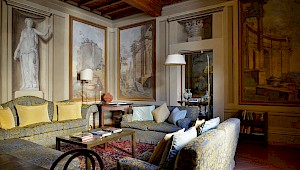 Florence Apartments
Large 6 bedroom/6 bathroom apartment, right on Piazza Santa Croce, in the heart of Florence. Decorated with unique and historic plasterwork and frescoes.